Thoughts from our latest publication on the 2023 US recession were featured in John Authers' Bloomberg opinion article:
Read the full article HERE
"...if we look at the the last two years as measured by the "establishment survey" (which gets the most publicity on NFP Fridays, and is based on interviewing companies), and compare it with the "household survey" (based on polling individuals about their work status), another startlingly wide gap opens. This chart is from Chris Watling of Longview Economics Ltd. of London: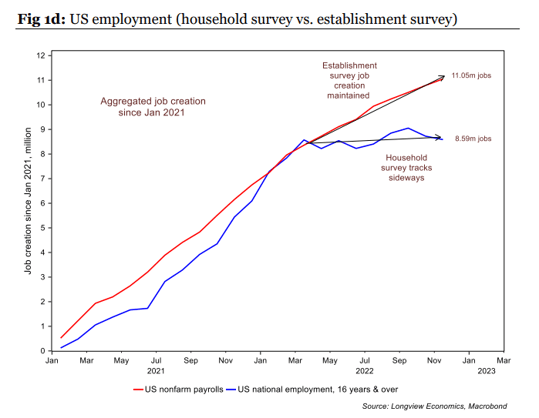 "To quote Watling:
The bulls' "soft landing" arguments, on close examination, increasingly appear to be false. The strength of the labour market is a central part of the bulls' argument. That is, the unemployment rate is low, demand for labour is seemingly strong (with a high level of job openings), and some expect "labour hoarding" (such that companies can avoid future rehiring challenges). There's growing evidence, though, that the labour market is much weaker than the bulls suggest. In particular, the employment data published in the establishment survey is not confirmed by the household survey, which is well known to be more useful/accurate, especially at major turning points in the economy."