Track record
Summary of our performance across our key research products
Macro Trading Recommendations performance
The chart on the right shows the total return from our macro trading recommendations over the past 12 months. This product highlights trading opportunities with one to six month time horizons across a variety of key asset classes, including government bonds; currencies; rates; equities; and commodities.
Longview Tactical Equity Asset Allocation:
The 'Tactical Equity Asset Allocation' product, in combination with the occasional 'Longview Alert', makes recommendations on US equities versus cash (and in some instances, versus 10 year Treasuries) on a 1 - 4 months timeframe. We track the performance of each of those recommendations. Here, we show the alpha generation of our equity long/short overlay recommendations.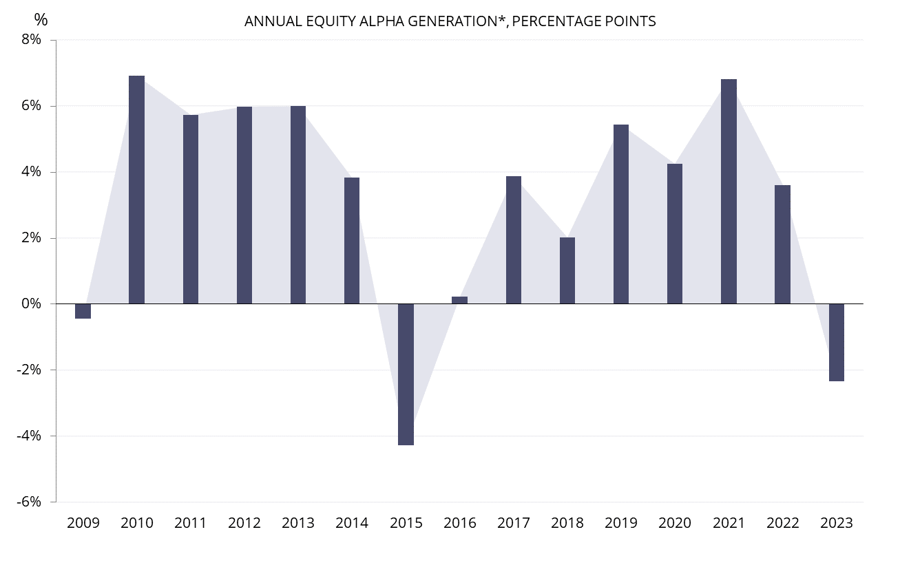 *as if recommendations are +/- 100% equity LONG-SHORT relative to benchmark (i.e. chart shows added alpha from +/- 100% overlay recommendations)
Longview Quarterly Asset Allocation:
This product makes quarterly recommendations across all key asset classes on a 6 - 24 month timeframe. We measure performance both on an absolute basis (i.e. as a standalone portfolio) and on a relative basis (against an average of global asset allocation indices). We show both performances here since we first published explicit recommendations in 2010.