I caught up with Chris Watling from Longview Economics on Tuesday, and as always he had some interesting ideas and charts. He says:
"Markets are great emotional beasts and they do become very fearful at times. It's a good thing as you do get a relief rally when everyone is fearful and worried." One contrarian buy signal he argues are the high volumes we are seeing in the Nasdaq 100, telling us that a crowded trade is being unwound.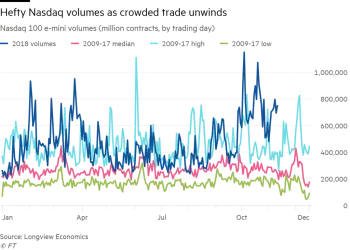 Another notable aspect at play is how equities and tech are not gaining any succour from falling Treasury yields and a stalling US dollar. These factors represented a trigger for Wall Street's rout back in October. (The 10-year real yield still remains above 1 per cent.) But the big slide in oil prices has also pulled market expectations of inflation down to the lowest level since late-December. If we look at US 10-year break-even rates now below 2 per cent, that suggests the economy does not face an inflation threat. So there's another supportive element for the global economy and by extension, share markets.
As Chris says, this will help ease the pressure on equities and set up a nice rally into the end of the year.
Plenty rests on the bond market's current price action that suggests a pause in the Fed's tightening cycle beckons. A cooling in the Sino-US trade war will also help. These are events that will dominate markets in the coming weeks.