Europe's equities are lagging despite flows moving in their direction at healthy clip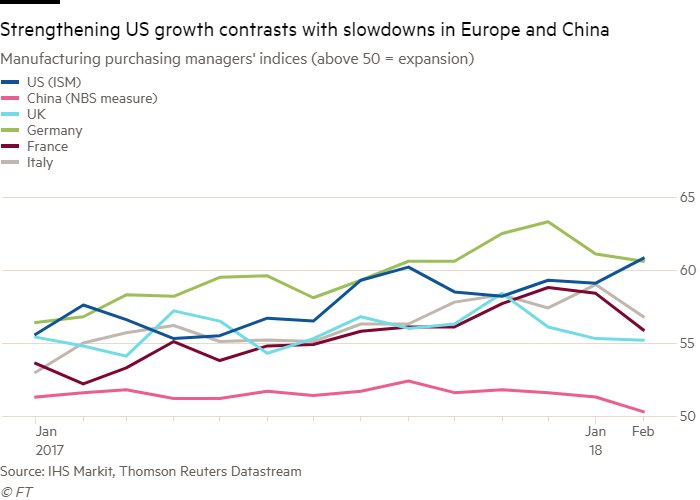 The first hint of slower global growth metrics as trade tensions intensify poses an important question for investors.
Is this simply a pause or have we seen the best of the strongest, synchronised global growth cycle since the financial crisis? The answer matters greatly and will help determine whether the equity market bounce from its early February correction has sufficient momentum to set further highs for the cycle.
In contrast with a downturn in recent European measures and that of China, the US ISM manufacturing index has risen above 60. On that basis Wall Street appears more of a certainty to reclaim its peak of late January. However, it remains to be seen whether the tailwind of tax reform and expectations of $1bn of share buyback activity this year from US blue-chips will counter concerns over trade protectionism and the departure of Gary Cohn from the Trump administration.
While the S&P 500 is some 5 per cent shy of this year's high, the Euro Stoxx 600 sits 8 per cent below its recent peak and, clearly, the region is lagging behind.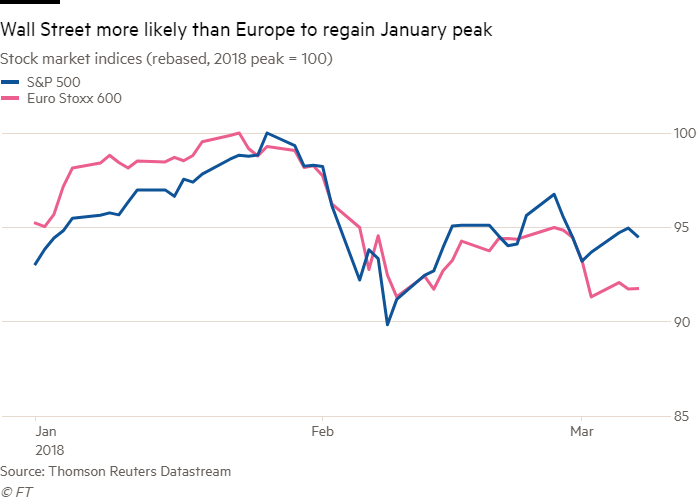 This comes as money has flowed into European equities at a hefty clip this year as some investors believe the region looks far more appealing on a valuation basis when compared with the US. Nearly $16bn of net funds has flowed into European equities this year, according to Bank of America Merrill Lynch.
The risk of a global trade war has also weighed on eurozone shares, notably among multinational German carmakers.
It also bears recalling that the Euro Stoxx loiters some 10 per cent below its April 2015 peak. Subsequent weakness in eurozone shares back then represented what some such as Longview Economics saw was an early warning for global equities, notably between August 2015 and February 2016.
Still, Longview thinks much of the recent pullback in global equities has largely played out, while the "macro and liquidity environment also remains supportive'" for owning shares here.
Read more: Stock market downturn: 'an accident waiting to happen'
Copyright
The Financial Times Limited 2018. All rights reserved.