Please find a summary of our latest SHORT VIEW - for the full piece, or to start a free trial of this, or any our other products, please get in touch: info@longvieweconomics.com
Price action in gold has been particularly strong in recent months: Since its 'double bottom' formation and bullish key day reversal in Mar-Apr, the price has rallied by over 10% and has broken above its 50-day moving average (FIG A).
While all of that has been encouraging for the bulls, the gold price is now poised. It's close to two key technical resistance levels: Its 200 day moving average and the top of its recent downtrend channel. The key question, therefore, is: What's next? Will the downtrend now resume or will upside momentum win out with gold breaking out above those key levels, and trend higher over coming weeks/months?
FIG A: Gold price (US$/oz), shown with 50 & 90 day moving averages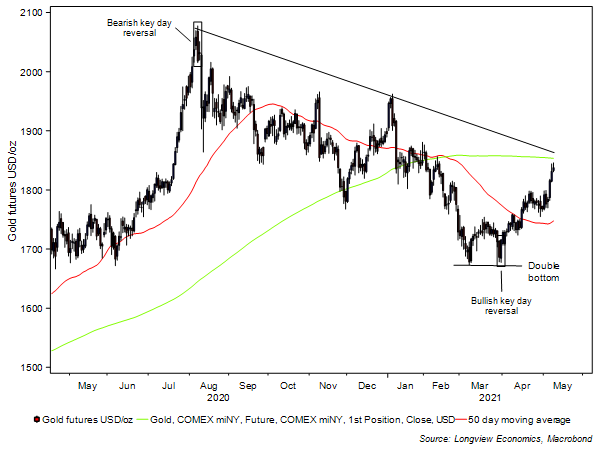 Harry examines the key reasons why we think it's the latter, namely:
The Fed continues to debase the dollar (as monetary policy remains easy).

Real bond yields and implied Fed Funds rates are likely to remain subdued (or potentially fall further)

Sentiment and Market positioning are not excessive (and indeed, at their least Bullish since early 2019)
Learn more about the Short View